AC Chemical Blowing Agent for rubber ,plastic
Product Description
Rroduct name: Azodicarbonamide
Formula: C2H6N6O2
Molecular formula: 146.108
CAS No.: 123-77-3
Property :
Yellow powder, specific gravity of 1.66, nontoxic, stink-free, flammable, capable to generate tremendous froth. During decomposition, 32% weight decomposed into gas, 27% sublimed, 41% residues. Among the decomposed gases, 65% is N2, 32% CO and 3% CO2. Decomposition heat: 359.5 J/g; specific heat: 0.26; combustion heat: 1070 KJ/mol.
Technical Data Sheet:
Modified Azodicarbonamide
Molecular formula C2H4N4O2
Synonyms: 1,1'-azobisformamide; Azodicarboamide; Azobicarboxamide.
CAS No.: 123 -77-3
Description: Pale yellow fine powder. soluble in alkali; Insoluble in alcohol, gasolene, benzene and water.
Functional use: Foaming agent used in PVC AIR blowing shoe
Packing and storage: 25kg net in kraft bag with inner PE bag or in carton with inner PE bag. store in cool, dry and ventilated warehouse. Protected from heat and moistrue. Preserve in airtight containers.
Specification
Identification
Conforms
Gas-forming amount
230±5 ml/g
Decomposition temperature
200±5 ℃
AV. Partical size
4-6um
Moisture Content
0.10% Max
For better and more accurate quotation,your confirmation for below is required:
1.what's your finished product and processing technology ?
2.did you use it before? if yes, can you advice your technical requirements for offer a reasonable quotation?
welcomed your inquiry!
here attached the selection guide for your reference,pls send me your requirements....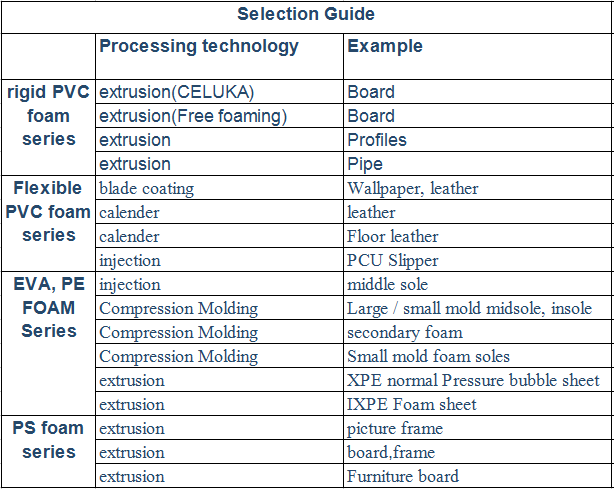 HAITAI
CHEMICAL INDUSTRY CO.,LTD -------------------
HAITAI
CHEMICAL INDUSTRY CO.,LTD
Haitai Chemical supply a wide variety of chemical foaming agents ,maybe you are also interested in below:
HIGH PURE AC 1000 FOAMING AGENT
HIGH PURE AC 3000 FOAMING AGENT
HIGH PURE AC 4000 FOAMING AGENT
HIGH PURE AC 6000 FOAMING AGENT
HIGH PURE AC 7000 FOAMING AGENT
ADC 850 FOAMING AGENT FOR PVC
ADC 800 FOAMING AGENT FOR XPE, RUBBER. PVC
FOAMING AGENT FOR PVC AIR BLOWING SHOE
COATING LEATHER FOAMING AGENT
FOAMING AGENT EVA INJECTION SHOE SOLE
WHITE FOAMING AGENT FOR PVC
OBSH WHITE FOAMING AGENT
FOAMING MASTERBATCH