AC Chemical Blowing Agent for rubber ,plastic
Product Description
Rroduct name: Azodicarbonamide
Formula: C2H6N6O2
Molecular formula: 146.108
CAS No.: 123-77-3
Property :
This foaming agent is produced after ultra-fining treatment and surface denaturing. It is widely used in the foaming of plastics for EVA, PE, PVC and many kinds of rubber, and it is suitable to hot-pressing foaming in EVA large or small mold and secondary foaming of PE.
Item No.: AC7000
Chemical component: Azodicarbonamide
Appearance: light yellow powder
Decomposing Temperature (Celsius): 198~202
Gas Volume ml/g (STP): more than 220
Particle size (um): 3~5
Moisture: less than 0.3%
PH: 7.0~7.5
This foaming agent is odorless and non-toxic, with good storage stability and has self-extinguishment. It wont decompose under common temperature but should be stored in a cool, dry place away from any sources of heat, spark, open flames or direct sunlight. Never let it contact directly with acids and alkalis. Good local exhaust ventilation in handling and mixing areas is highly recommended. Be careful not to inhale its powder, make frequent skin contact or swallow it.
Each 25kg of this agent is packed in an international standard corrugated paper carton with a polythene liner inside. A slight sticky in using is the property of this foaming agent, not caused by dampness and wont affect its quality.

Technical Data Sheet:
Azodicarbonamide (AC 7000)
Molecular formula C2H4N4O2
Synonyms: 1,1'-azobisformamide; Azodicarboamide; Azobicarboxamide.
CAS No.: 123 -77-3
Description: Pale yellow fine powder. soluble in alkali; Insoluble in alcohol, gasolene, benzene and water.
Functional use: Foaming agent used in rubber, plastics etc.
Packing and storage: 25kg net in kraft bag with inner PE bag or in carton with inner PE bag. store in cool, dry and ventilated warehouse. Protected from heat and moistrue. Preserve in airtight containers.
Specification
Identification
Conforms
Assay
97.0% Min
Gas-forming amount
220±5 ml/g
Decomposition temperature
207±5 ℃
AV. Partical size
3-5um
Heat Loss
0.10% Max
Ash(cont. dispersant)
0.10% Max
pH
c6.5-7.5
For better and more accurate quotation,your confirmation for below is required:
1.what's your finished product and processing technology ?
2.did you use it before? if yes, can you advice your technical requirements for offer a reasonable quotation?
welcomed your inquiry!
here attached the selection guide for your reference,pls send me your requirements....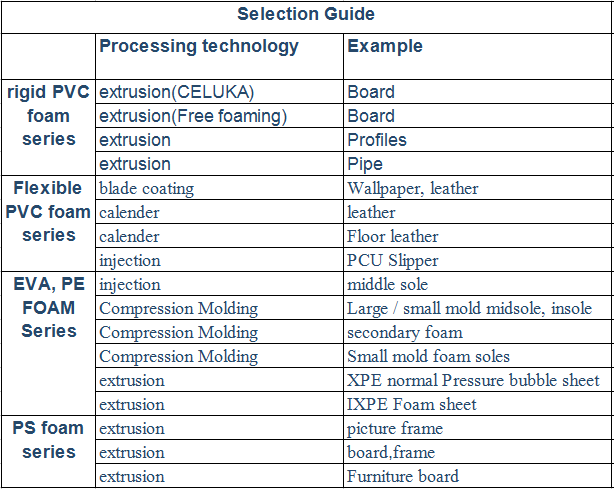 Haitai Chemical supply a wide variety of chemical foaming agents ,maybe you are also interested in below:
HIGH PURE AC 1000 FOAMING AGENT
HIGH PURE AC 3000 FOAMING AGENT
HIGH PURE AC 4000 FOAMING AGENT
HIGH PURE AC 6000 FOAMING AGENT
HIGH PURE AC 7000 FOAMING AGENT
ADC 850 FOAMING AGENT FOR PVC
ADC 800 FOAMING AGENT FOR XPE, RUBBER. PVC
FOAMING AGENT FOR PVC AIR BLOWING SHOE
COATING LEATHER FOAMING AGENT
FOAMING AGENT EVA INJECTION SHOE SOLE
WHITE FOAMING AGENT FOR PVC
OBSH WHITE FOAMING AGENT
FOAMING MASTERBATCH